Cogitum Co-Citer 1.0
Quick Description: (Read All)
A tool for creating and managing collections of texts from the Internet

Download - Size: 456 KB
Source: www.cogitum.com
File Ping Time (less is better): 195 ms

Category:
Internet
(Rank: 1,542 / 3,062):
Browser Tools
(Rank: 103 / 217)
Downloads:
733 This Week (Rank: 7,643 / 15,688) / 12633 Total (Rank: 755 / 15,688)
Developer:
Cogitum LC
Software Home Page:
http://www.cogitum.com/co-tracker-text
License Type:
Freeware ($0.00)
Language:
English
Most Recent File Validation
(
?
): Mon, February 4th, 2008 8:15 AM CST
OS: Win95,Win98,WinNT 4.x,Windows2000 - Install and Uninstall.
System Requirements: Microsoft Internet Explorer 5.0 or higher



Full Description:
Cogitum Co-Citer is a tool for creating and managing collections of texts from the Internet. It captures the selected text, Internet address where it has been found, its title, and the date of grabbing. A user can assign any comments and save it in a newly created or in an existing Co-Citer folder. Co-Citer provides sending collections by e-mail, export to HTML, transfer to other computers, editing texts, search, print, and more. Use it to store collection of the most interesting texts from the Internet, favourite citations, make syllabuses, and more.
Screenshot:
(Source: www.cogitum.com - Ping: 213 ms - Size: 14 Kb (
?
)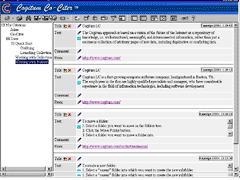 Keywords: text, cite, citation, html, grab, capture, citer, collection, database, browser, plug-in, internet, content, knowledge, management

| | | |
| --- | --- | --- |
| Rank | Title - Internet : Browser Tools | Downloads |
| | My Sidebar for Internet Explorer ($19.95) - Want to know everything in the world? Latest news with home delivery in Sidebar! | 2206 |
| 2 | NetPicker ($0) - Save information from the Web in an organized manner. | 2180 |
| 3 | Search Favorites ($7.99) - Maximize the value of IE Favorites. Fast search finds lost, saves new, drops old | 2171 |
| 4 | Favorite Notes ($18.95) - Favorite Notes will bookmark a website and keep your user name and password. | 2120 |
| 5 | GluedOn ($0) - GluedOn keeps you on the Internet by simulation activity. | 1948 |