Aba Daba 1.31
Quick Description: (Read All)
Aba Daba is a five-in-a-row tic tac toe with modern interface & different skins.

Download - Size: 734 KB
Source: www.astatix.com
File Ping Time (less is better): 128 ms

Category:
Games
(Rank: 943 / 1,707):
Board Games
(Rank: 104 / 195)
Downloads:
651 This Week (Rank: 8,178 / 15,688) / 9145 Total (Rank: 3,632 / 15,688)
Developer:
Astatix Software
Software Home Page:
http://www.astatix.com/abadaba.php
License Type:
Freeware ($0.00)
Language:
English
Most Recent File Validation
(
?
): Wed, February 6th, 2008 6:51 AM CST
OS: Win95,Win98,WinME,WinNT 4.x,Windows2000,WinXP,Windows2003 - Install and Uninstall.




Full Description:
Aba Daba is modern implementation of the ancient logical game Gomoku, also known as 5 in a row or Noughts and Crosses. Major game features: Powerful artificial intelligence, Attractive music, Nice sounds, Different skins, Different skill levels, Different board sizes, Multilingual support, Unusual design, User-friendly interface, Quick restart by pressing right mouse button, Quick hiding game window by pressing ESC key, Easy to use, Detailed on-line help, Optimization for the up-to-date 32-bit CPUs, Install/uninstall capabilities.
Screenshot:
(Source: www.astatix.com - Ping: 126 ms - Size: 19 Kb (
?
)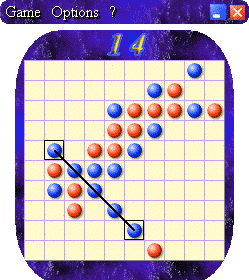 Keywords: abadaba, daba, gomoku, go-moku, tictac, noughts, crosses, reversi, renju, five, skins, board, puzzle, skill, level

| | | |
| --- | --- | --- |
| Rank | Title - Games : Board Games | Downloads |
| | JigSaw Maverick ($10) - Play and solve jigsaw puzzles using realistic puzzle pieces. Fun for all ages. | 2194 |
| 2 | Mindjongg ($11) - an excellent Mahjongg tile matching game with 17 tile sets and 24 layouts | 2107 |
| 3 | Arcade Mah Jongg ($19.95) - Try this Mah Jongg game download with arcade style play! Aim for the moving tiles and make matches. | 2098 |
| 4 | Picture Lines ($0) - The Lines game with new game idea and original interface. | 2031 |
| 5 | StripChess ($19.97) - Fischer random chess and classical chess program. | 1945 |