RichView (C++Builder version) 1.9.24b
Quick Description: (Read All)
Components for editing documents with images, tables and hypertext links

Download - Size: 9.56 MB
Source: www.trichview.com
File Ping Time (less is better): 24 ms

Category:
Development Tools
(Rank: 365 / 2,321):
C/C++/C#
(Rank: 12 / 59)
Downloads:
1529 This Week (Rank: 2,817 / 15,688) / 4440 Total (Rank: 9,186 / 15,688)
Developer:
TRICHVIEW.COM
Software Home Page:
http://www.trichview.com
License Type:
Shareware ($249.00)
Language:
English
Most Recent File Validation
(
?
): Tue, February 5th, 2008 2:19 PM CST
OS: Win95,Win98,WinME,WinNT 4.x,WinXP,Windows2000,Windows2003 - No Install Support.
System Requirements: Borland C++Builder 4-6, Turbo C++ 2006, BDS 2006 (C++Builder and Delphi for Win32)



Full Description:
RichView is a suite of native Delphi/C++Builder components for displaying, editing and printing hypertext documents. Components support various character attributes (fonts, subscripts/superscripts, colored text background, custom drawn). Documents can contain tables, pictures, images from imagelists, any C++Builder controls. Left, right, center or justify alignments of paragraphs, custom margins and indents, bullets and numbering, background images, Unicode, print preview, HTML export, RTF import and export, live spell, data-aware versions and more... This installation contains files for C++Builder 4-6, Delphi 2006 (C++Builder and Delphi for Win32), Turbo C++ 2006
Screenshot:
(Source: www.trichview.com - Ping: 24 ms - Size: 22 Kb (
?
)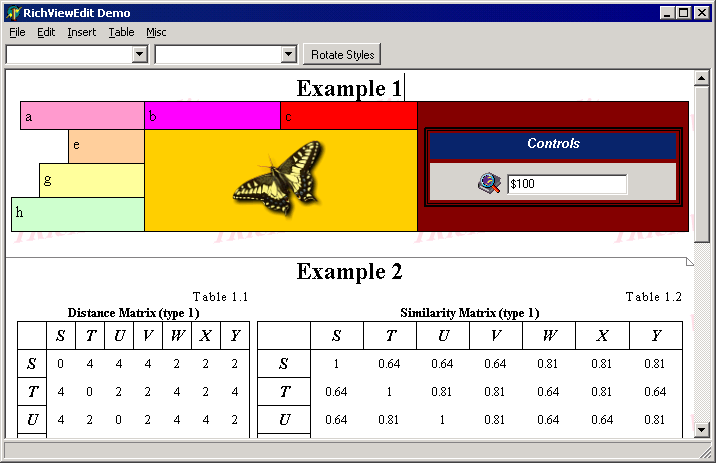 Keywords: richedit, unicode, hypertext, tables, bullets, editor, viewer, html, components, builder, rich, text